Flat Roof Systems
Our roof specialists at Stone House Roofing in Cutler Bay & Homestead in Miami-Dade County will help you comprehend how different types of Flat Roof systems work at the time of choosing a new house's roof. The National Roofing Contractors Association (NRCA) defines a low-slope roof as a category of Roof Systems that generally includes waterproof membrane types of roof systems installed on slopes at or less than 3" in 12". A Flat roof's minimum slope should be at list ¼" by 12" in order to provide adequate positive drainage.
The most common Miami-Dade and Homestead Flat Roof Systems are, but not limited to: Built-up roof, Polymer-modified bitumen, and Single-ply and Liquid-applied systems. These Flat Roof Systems are used on New Roof, Re-roof and Roof Recovery.
Built-up Roof Systems
Built-up roof systems consist of multiple layers of saturated felts, coated felts fabric or mats assembled in a place with alternate layers of bitumen and surfaced with mineral aggregate, bituminous materials, a liquid applied coating or a granule surfaced cap sheet. The life expectancy of a built-up roof is around 20 years or more. Besides long life, they have another advantage–Bitumen roof systems are extremely resistant to wind of uplift. There are three types of Built-up roofing:
1- Aggregate-surfaced Roofing.
2- Smooth-surface Roofing
3- Mineral-surface Roofing
Modified Bitumen Roof Membranes
Polymer modified roof membranes are composed of reinforcing fabrics, usually polyester, fiberglass or both that serve as the carriers for the polymer modified bitumen as it is manufactured into a roll material. The reinforcements help keep in place within the sheet provide tensile strength and allow for varying degrees of sheet elongation. There are two general types of polymer-modified asphalts:
1- Atactic polypropylene (APP) that has a plasticized nature.
2- Styrene butadiene styrene (SBS) that has a rubberized nature.
They both can be applied with cold adhesive, hot adhesive and self-adhesive.
Sample of modified bitumen hot mop applied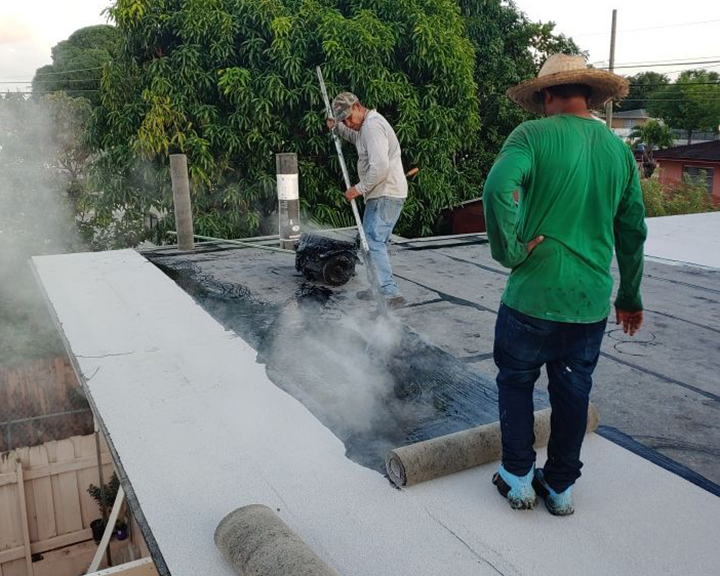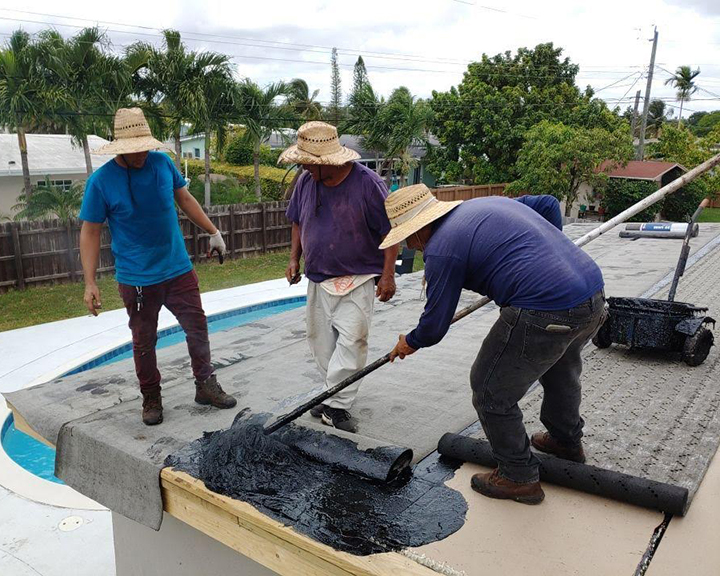 Sample of modified bitumen self-adhesive applied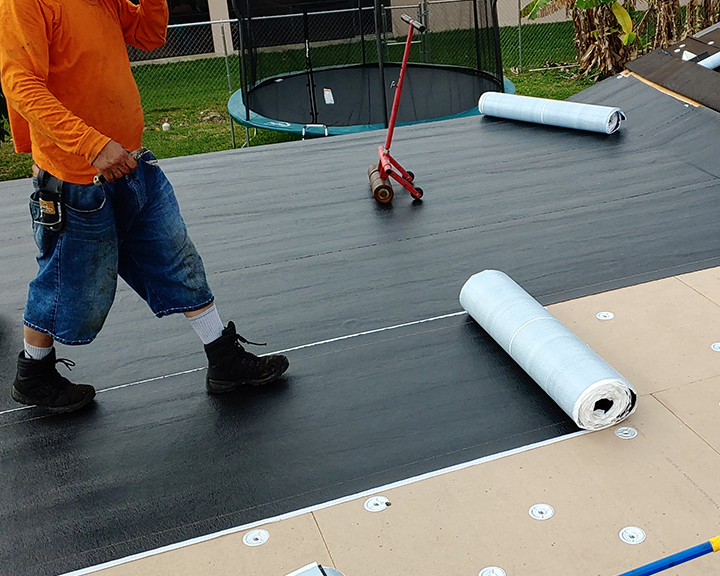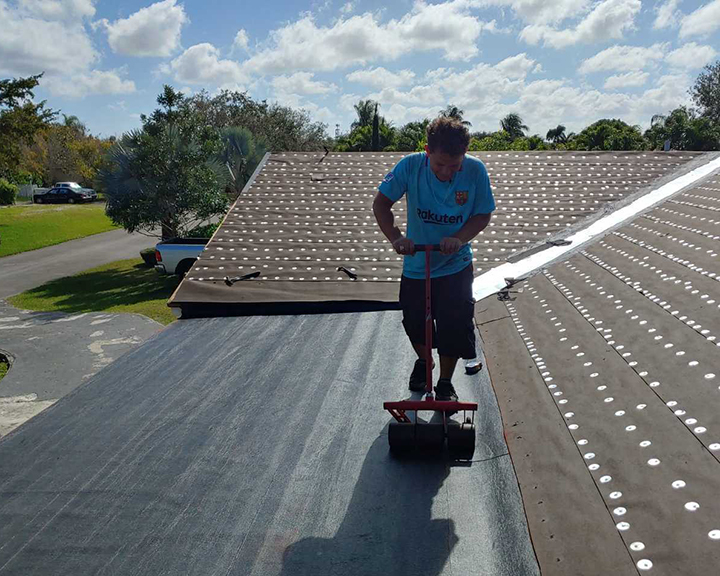 Single-ply Roof Membranes
Single-ply roof membranes are meant to be field applied using just one layer of membrane material, either homogeneous or composite rather than multiple layers.  There are mainly two types of single-ply membranes: thermoset polymer sheets and thermoplastic polymer sheets. Thermoset Polymer sheets (EPDM) can only be bonded to like materials with liquid applied adhesive or adhesive seam tape. On the other hand thermoplastic sheets (PVC or TPO) are typically seamed by heat welding with hot air. Single ply membranes are more likely to be used on commercial roof systems because they can cover large areas using less labor.
Sample of TPO single Ply System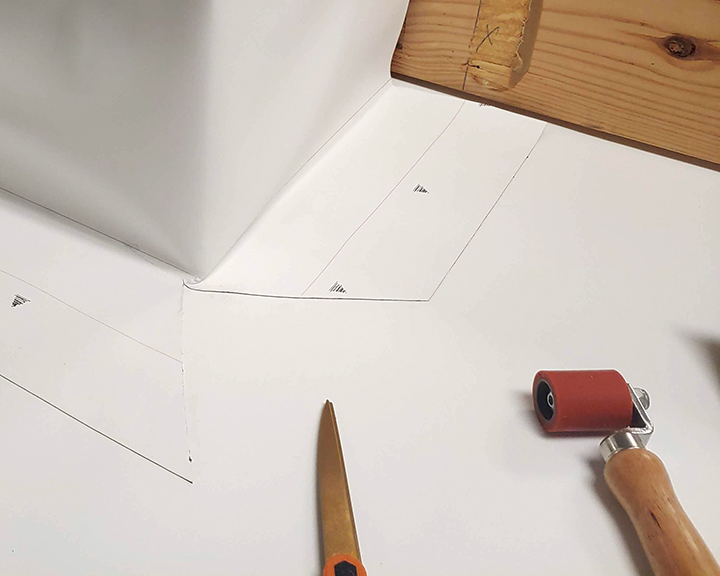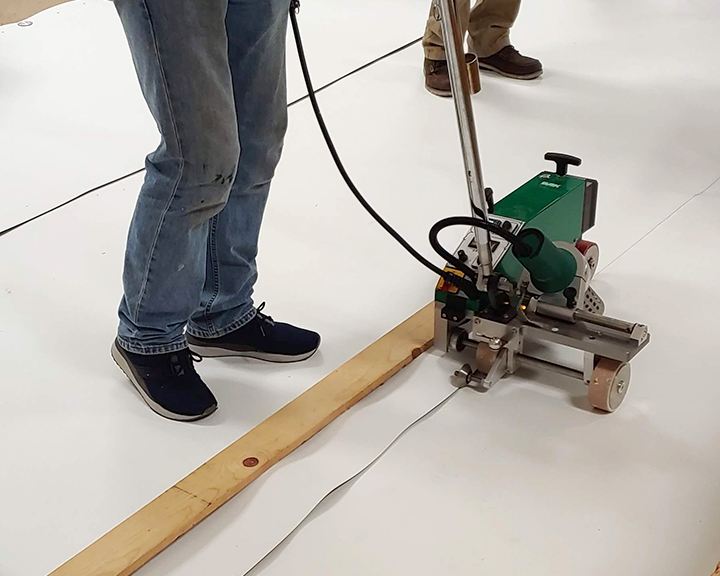 Liquid Applied Roofing Systems or Elastomeric Systems
There are many Liquid applied roofing systems out there. From Acrylic, urethane, silicone, asphalt emulsions, etc., Liquid Applied Roofing membranes are constructed on-site from a liquid resin or a water base fluid and a reinforcing material. Roofing acrylic systems, for example, are fabricated on-site applying one coat of acrylic using a brush roller or sprayer, then rolling the reinforcing fabric on top of it and applying another coat on top of the fabric. After that, the finish coat is applied and the system is completed. In the case of silicone, the system doesn't need a reinforcing fabric on the field; the fabric is only used to reinforce flashing and penetrations. Liquid Coating creates a complete homogeneous system. Liquid coating and liquid coating systems are very popular for recoveries when the owner wants to save money and extend the life of the roof for another 10 to 15 years without the need to tear off the old roof. In South Florida, in the area of Miami-Dade and Broward County, Silicon Roof Systems are very popular on flat roofs because it's ability to hold pounding water.
This is an introduction to the most used Miami-Dade and Homestead Flat Roof Systems. In a future article, we're going to specify more details about every system, and talk about benefits and downsides. We at Stone House Roofing understand how difficult it can be for you to choose between all these systems. Just call us at 305-239-8838 to send you one of our estimators to evaluate the best option for you.